Sebaceous glands in your body produce a natural oil called sebum to maintain your skin moisturized. Production of too much sebum clogs the pores and causes acne. The area around clogged pores gets swollen and red breakouts appear on the surface of the skin.
Other impurities such as environmental pollution and makeup can also clog the pores. Improper hygiene, certain medication, poor nutrition, hormonal fluctuations and stress can also cause acne.
You can get a large variety of commercially available acne treatments which not only cost you heavy but also cause side effects including more acne. Castor oil is one great natural remedy for acne without any side effects.
How Good is Castor Oil for Acne?
Castor oil has been used to treat acne since ancient times. Following are the main reasons to make castor oil good for acne.
Antibacterial, antiviral and antiseptic properties of castor oil are very helpful to deal with bacteria on the skin and heal acne.
Natural astringent properties of castor oil removes the dead skin, dirt, oil, bacteria and other impurities from the skin pores which are generally responsible to cause acne
Moisturizing capabilities of castor oil hydrates the skin by increasing the production of collagen.
Omega 6 fatty acids in castor oil also have capacity to fight with bacteria
Ricinoleic acid in castor oil helps to reduce inflammation and swelling caused around the acne.
Undecylenic acid in castor oil remove the dead skin which one of the main causes of acne
Antioxidants and Vitamin E in Castor oil generally improves skin condition which prevents future outbreak of acne.
Castor oil reduces acne scars
With so many advantages of castor oil, you can use it alone or enhance its usefulness by adding other ingredients to treat acne.
How Do You Use Castor Oil for Acne?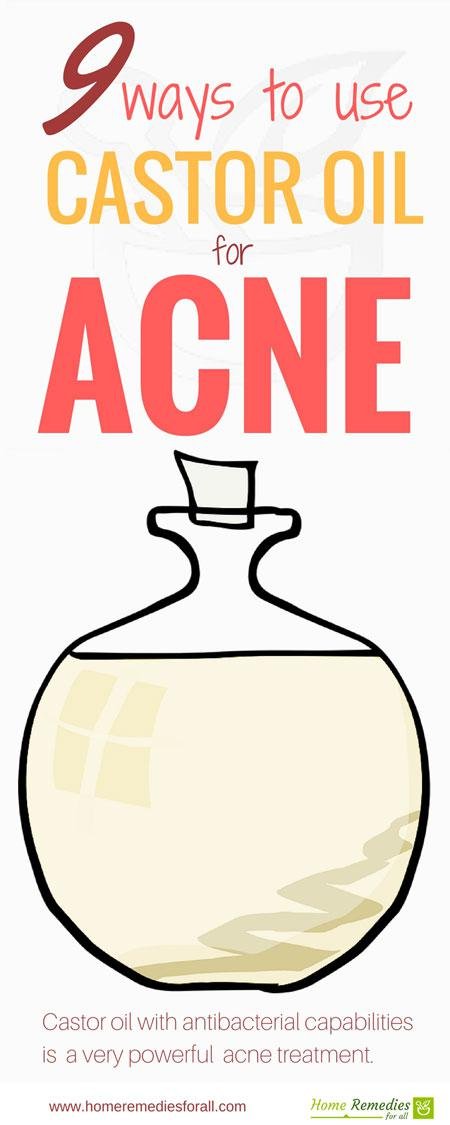 Your skin is unique like every other person's skin. Some products and combinations of products will work well on your acne, other product combinations may not work very well. You can use castor oil for acne on its own or along with other products as given under. Choose what suits you and use. The combination that works well for you will heal acne faster and without leaving scars.
1. Castor oil for Acne
In this method we are going to use pure cold pressed organic castor oil to treat acne. Do the following procedure 2-3 times a week.
Ingredients
Half teaspoon of cold pressed organic castor oil
Boiling water in a pot for steaming
A towel
Directions
Take a litre of water in a boiling pot
Hits the path until water starts steaming
Remove the path from the heater and put it on a table
Sit on a comfortable chair near the table in such a way that when you bend your health head they steaming hot on the table is parallel to your head
Drape your head with a towel in such a way that even the steam pot is covered to make a tent.
No steam should escape the tent made by the towel.
Inhale and exhale normally.
The steam will open up your clogged pores on neck and face
Intermittently remove your head from the tent If you can't stand the steam for long.
Continue for 5 minutes
Remove the tent and wash your face.
Dab it dry gently with a fresh towel
Apply the Castor oil on your acne ridden face
Go to bed and keep the Castor oil on your face through the night
Wash your face in the morning.
The steam opens and clears the skin pores. Castor oil moisturizes the skin throughout the night and fights with the acne causing bacteria. Castor oil also clears the dead skin cells. This is a very good method to use castor oil for acne and you do not require any other ingredient if this method works for you. If you find the consistency of castor oil too thick for your skin then use one or more of the following methods.
2. Castor Oil With Virgin Coconut Oil
Consistency of castor oil is too thick for deep cleansing. You can add other natural antibacterial oils such as virgin coconut oil. depending on your skin type you can mix both oils. For normal skin add castor oil and virgin coconut oil in the 1:4, for oily skin 1:3 and for dry skin 1:5. More coconut oil you use, the thinner your mix oil will become. This coconut oil and castor oil for acne should also be used before going to the bed.
Ingredients
Castor Oil
Virgin Coconut Oil
Towel
Steamy water
Directions
Dip a small towel in steaming water
Take the towel out of the water and remove extra water by twisting the towel. There should be not dripping water but the towel should remain wet.
Place the towel on your face and gently press it.
Keep it on the face until it cools down
Remove the towel and wash your face with warm water
Gently massage the Virgin coconut oil and castor oil mix in circular motion on the acne affected are of the face
Leave it overnight
Clean the face in the morning with damp cloth
Rinse your face with water
Castor oil with antibiotic virgin coconut oil removes the dead skin efficiently as well as kill the bacteria. Do it regularly everyday for 2 weeks. You will get rid of most of your acne and your skin will become smooth and young.
3. Castor Oil and Vitamin E
In this method most of the acne treating work will be done by Vitamin E oil as the quantity of castor oil used is very small.
Ingredients
1 Vitamin E Capsule
10 drops of Castor Oil
Directions
Open the content of 1 capsule of Vitamin E in a tablespoon or a small crucible
Add 10 drops of castor oil
Mix the ingredients well
Apply the mix on the acne affected area and massage gently
Wash and clean your skin after 10 minutes
Do it twice daily
Your acne should begin to disappear within a week and in two weeks Your face should be clear and glowing.
4. Castor Oil with Grape Seed Oil
The Omega 6 linoleic acid in grape seed oil controls sebum production. It makes a very good combination with castor oil to treat acne. Use this combination before going to bed.
Ingredients
Half teaspoon Castor Oil
Half teaspoon Grape seed Oil
Directions
Wash Your face with warm water
Dab it dry with a clean towel
Mix half teaspoon of castor oil and half teaspoon of grape seed oil in a crucible
Apply if on the acne area and the rest of the face and neck
Gently massage for a few minutes
Leave it overnight
Wash and rinse your face with water
Grape seed oil speeds up healing process of the skin cells. It helps to get rid of the acne scars. The combination of castor oil and grape seed oil therefore will give you a smooth and bright young skin after the acne are cleared.
5. Castor Oil With Tea Tree Oil
Tea tree oil is very well known for its antibacterial, antiviral and antifungal properties. Adding this to castor oil increases castor oils capacity to deal with the bacteria many folds. You only require a few drops of tea tree oil so the mix will retain the thick consistency of castor oil.
Ingredients
1 teaspoon castor oil
4-5 drops of tea tree oil
Q-tip
Directions
Take one teaspoon of castor oil in a small bowel
Add 4-5 drops of tea tree oil and mix it well.
Wash your face with water and dab it dry with a towel
Apply the castor oil tea tree oil mix with the telp of q-tip
Leave it there for 30 minutes
Wash and rinse your face
Do it twice daily
Within a week you will see acne disappearing. If not then add a few more drops of tea tree oil next week. Within the 2 weeks your face should become clear of most acne.
6. Castor Oil With Lemon
Lemon is rich in vitamin C which is very good for skin. The citric acid helps to exfoliate well. Lemon is an excellent astringent and reduces redness. Do the following before going to bed.
Ingredients
1 teaspoon freshly squeezed lemon juice
1 Teaspoon of Castor oIl
Q-tip
Water
Directions
Rinse your face gently with water and dab it dry
Dip a q-tip in the lemon juice and apply directly on the acne
Live it for 15 minutes
Wash and rinse your face
Apply castor oil
Leave it overnight
Wash your face with water in the morning
Do this every day for two weeks for the acne to completely disappear. Lemon juice gives a sting on the skin. Don't panic, just learn to bear the sting.
7. Castor Oil With Apple Cider Vinegar (ACV)
Apple cider vinegar itself is one of the most powerful remedies for acne and along with castor oil it becomes more effective. ACV acts as astringent. Do the following just before going to the bed.
Ingredients
1 Teaspoon Apple Cider Vinegar
3 Teaspoon water
1 teaspoon Castor Oil
Cotton balls
Directions
Mix 1 teaspoon of apple cider vinegar with 3 teaspoons of water
Dip a cotton ball in the diluted ACV and apply directly on the acne
Wash it off after 10-15 minutes
Apply castor oil on the acne
Leave it overnight
Apple cider vinegar cleanse your pores and castor oil fights with the bacteria to heal your acne. Do it everyday for a week to see the progress. You may require 1-2 weeks more for the acne to completely disappear leaving a clear and smooth skin.
8. Castor Oil With Baking Soda
Here the castor oil and baking soda act as face scrub. This is gentle on the skin and helps to clear acne fast.
Ingredients
1 Teaspoon of Castor Oil
1/2 teaspoon of Baking Soda
Directions
Mix 1/2 teaspoon of baking soda to one teaspoon of castor oil to make a thick paste
Apply the paste on the acne affected area with gentle massage
Leave it there for 15-20 minutes
Wash and rinse your face with water
Do this daily twice. Baking soda is anti-inflammatory and castor oil antibacterial and antiviral. Both together deal with bacteria and inflammations. Make sure that the paste is massaged gently on the inflamed acne to ensure effective treatment.
9. Castor Oil With Garlic
Garlic with sulfur in it is a natural remedy to treat acne. You can add garlic juice with castor oil to be more effective in dealing with your acne. You can smash garlic cloves to make a paste and strain to get juice. Apply this remedy before going to the bed
Ingredients
1/2 teaspoon garlic juice
1 teaspoon castor oil
Directions
Mix 1/2 teaspoon of garlic juice to 1 teaspoon of castor oil
Wash your face with warm water and dab it dry with a towel
Apply the garlic castor oil mix on the affected acne area
Leave it overnight
Wash your face in the morning with water
Garlic will smell. In fact garlic smell helps to sleep well, but you need to get used to it. You may not not like it during the first few nights but then for the benefit of your skin you certainly will begin to accept it.
Tips on How to Get the Best Results
In order to get the best results out of castor oil, use the following tips and precautions to treat your acne effectively.
Make sure that it is cold pressed and pure castor oil. Quality of castor oil has a significant impact on the final outcome. so always use the best organic castor oil.
Always conduct a patch test on a part of your skin to check whether you are allergic castor oil or not. Castor oil, although rare, can be allergic to certain skins.
Notice rashes, itching and burning sensation if any by the use of castor oil. If so, then stop using it. Either the Castor oil might be impure or the other ingredients are causing these rashes. In either case check with your dermatologist.
Use the required quantity of castor oil based on your skin type. Dry skin we require castor oil then the oily skin.
Remove castor oil from your skin with the use of baking soda and water mixture if it does not get removed with water alone.
Ensure that castor oil doesn't get into your eyes.
Use a carrier oil if you find the viscosity of castor oil too thick to use it alone.
Any topical application of a product such as Castor oil on your acne will be more effective if it is followed with proper nutrition, enough exercise and good hygiene. Avoid all kinds of fatty foods that generally increase the production of sebum. Eat more fruits and vegetables to not only 3 cure acne but also get better smooth and glowing skin and overall improved health.
Use of added sugar and white flour in your diet will complicate your acne and you will find it difficult to heal.