If you care for your hair then you will love essential for its growth. You can treat all kinds of scalp problems including dandruff, dry hair and hair fall with essential oils.
They also give shine and strength to your hair naturally. And the best part is that you only need to use a few drops. You have plenty of choices. You can choose one or more essential oils that you like. These oils offer multiple health benefits. In addition to offering skin and hair benefits these oils can also help you to reduce stress. Essential oils are your best natural bets as compared to harmful chemical based hair care products.
5 Essential Oils - Best Oils for Hair Growth
Don't panic if you notice hair fall. Losing 50-100 strands of hair daily is common in normal hair growth cycle. If you lose more than that then you should look for the causes. Genetics, medicine, aging and extreme stress are the most common causes of hair loss.
Hair loss in general reflects the level of health of a person. Millions of people around the world are affected by it and seek a cure for hair loss.Everyone wants to look healthy and young. Hair loss changes looks and sometimes it can impact self-esteem of some people.
Don't let your hair loss undermine your confidence. Stress, harsh environment and some underlying physical weaknesses generally can be eliminated by taking required precautions.
There is a lot you can do about it at home using natural ingredients. Oil massage is one of the simplest ways to promote hair growth. You can use any of the following 5 oils to rejuvenate your scalp.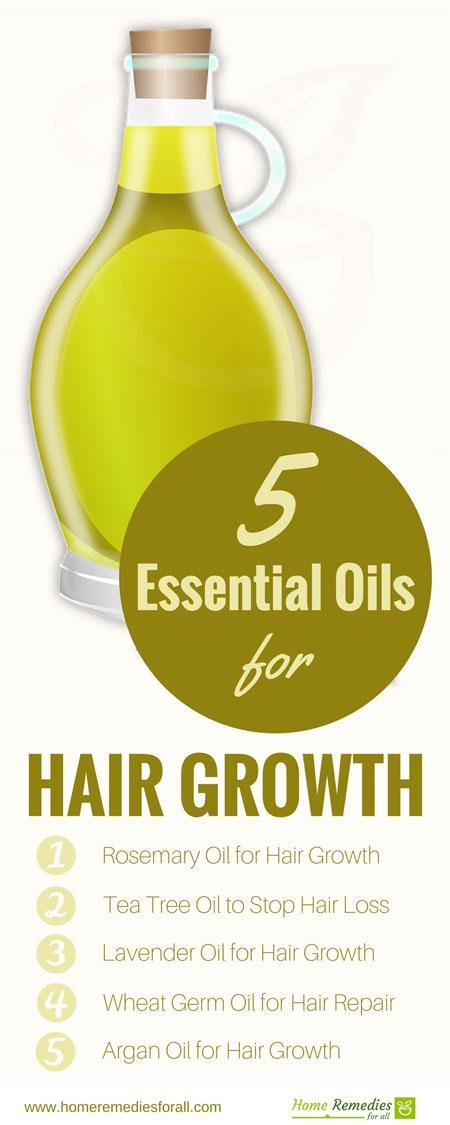 Massage Scalp with Oils to Prevent Hair Damage
Oils massage increases blood circulation in the scalp. This increased circulation nourishes hair roots which in turn makes them strong and reducing hair fall. In addition, the oil makes a protective film on every hair helping them from pollutants. The overall impact is reduction in hair fall.
The best time to massage scalp is before going to bed. You can leave the oil overnight on your scalp and wash and clean it in the morning for the maximum impact. Make sure that the oil is warm and is applied to the scalp and the scalp is massaged by the fingers. Hair should not be rubbed by the palm.
You can use a number of oils to massage your scalp but the following 5 oils are very powerful to stop hair fall.
1. Rosemary Oil for Hair Growth
You can use any oil as career for Rosemary essential oil. Add a few drops of essential rosemary oil in two tablespoons of Olive oil or coconut oil. Both these oil possesses anti fungal and antibacterial properties. Massage with Rosemary oil is an excellent home remedy for hair loss.
Apply the oil mix first on the entire scalp and then slowly massage the scalp with fingertips. It improves blood circulation to the scalp and improves oxygen delivery to the follicles.
In addition to the benefits to hair, Rosemary is an herb that possesses provides nutritional and therapeutic benefits. One such benefit is related to the brain. Many scientific researches on the benefits of rosemary have found that an ingredient called carnosic acid is a potent element to fight free radical damage if any in the brain.
2. Tea Tree Oil to Stop Hair Loss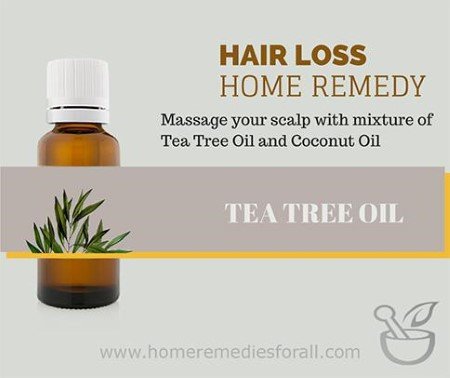 Tea tree oil kills the bacteria and mites that attack the follicles and causes hair loss. It has antifungal, antibacterial and anti-infection capabilities. It is helpful in many scalp problems including dermatitis and dandruff.
Tea Tree essential Oil can also be used with Olive oil or Coconut oil as career. Add 10 drops of tea tree oil to 2 tablespoons of olive oil or coconut oil. Use it warm. Apply the oil mix to entire scalp and massage with fingertips.
Tea tree oil opens up the hair follicles and the oil massage increases the blood circulation. This combo nourishes the hair to make them healthy and less prone to fall.
3. Lavender Essential Oil for Hair Growth
Lavender oil mixed with other oil makes a very good home remedy for hair loss. Add one teaspoon of lavender oil to 100 ml of coconut oil and fill the mixture in a glass bottle. Use this every alternate night to massage the scalp. Rinse the hair next day morning with warm water and shampoo.
Lavender oil treats sleeplessness, stress and anxiety. All these conditions are responsible for hair fall. So, you see, lavender oil and other essential oils mentioned here provide multiple benefits to the hair loss problems.
4. Wheat Germ Oil for Hair Repair
We are not going to use wheat germ oil for scalp massage but we will use it for washing the hair.
Add a teaspoon of wheat germ oil, a teaspoon of Aloe Vera gel in a tablespoon of coconut milk. Use it as a shampoo. Keep it for 2-3 minutes and wash and rinse with warm water.
5. Argan Essential Oil for Hair Growth
Argan oil is very good for dry hair. With its moisturizing capabilities, it makes hair shiny and healthy. Argan oil contains fatty acids and Vitamin E which are good for skin and Hair.
To sum up, the best way to use different oils to stop hair loss is to follow the routine of massage, shampoo and care as under:
Massage your scalp with one of olive oil or coconut oil added with (Rosemary oil. Tea Tree Oil or Lavender Oil) preferably before going to bed.
Shampoo your hair with a mixture of Wheat Germ oil, Aloe Vera and Coconut milk and wash rinse and dry your hair
Apply Argan oil
You will not only stop the hair loss but your hair will grow, look shinier and healthier.
Learn more about causes, symptoms and prevention of hair loss in the other related articles: