If you have been taking blood pressure medicines and your blood pressure is under control most of the time, then you don't have to really worry much about it. However, occasionally you may forget to take medicine or for some other reason if your blood pressure rises, then try this smoothie.
This smoothie will immediately lower your blood pressure.
Diet and exercise play a vital role in long term management of high blood pressure. If you may have been eating a high fat and high sodium content diet for some time, knowingly or unknowingly, then it will have an effect on your blood pressure.
Lower Your Blood Pressure with Green Smoothie
The nutrients naturally available in fruits and vegetables are very powerful and they have very high therapeutic values. You simply need to know which nutrients are required and which food item can provide the supply.
Nitric oxide is one such compound that relaxes the blood vessels to improve blood flow and lower blood pressure. Almost all fruits and vegetables contain nitrates in their composition. The vegetables which are close to the ground have more nitrate then the fruits that are far above the ground on the trees.
Dietary nitrates are natural and effective. Added nitrates are not useful.
Dietary nitrates are converted to nitrite immediately by the bacteria in the tongue. This nitrite when it goes to the stomach converts to nitrosamines. Too much nitrosamines are not good because they impact the absorption of other nutrients. But this happens only when too much nitrosamines are produced. Nitrosamines remain in control in the presence of Vitamin C. Banana has enough Vitamin C to take care of nitrosamines.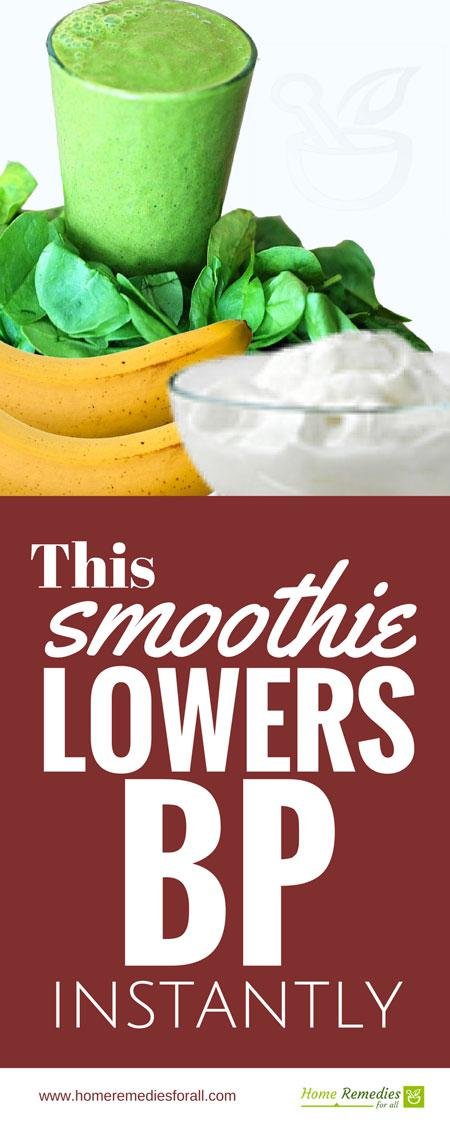 When these nitrosamines reach the bloodstream, they get converted to the beneficial nitric oxide. Nitric oxide instantly lowers the blood pressure.
Root vegetables and leafy greens have maximum nitrate as they are either inside the ground or very close to the ground. Soil provides the nitrates in the food items.
In addition to nitrates we need potassium that also helps to reduce blood pressure by adjusting the potassium sodium ratio particularly when we are more likely to eat fast foods and preserved food which are rich in sodium.
Probiotics have also been found to lower blood pressure.
So, any smoothie that has these three elements will reduce your blood pressure.
How to Prepare the Smoothie
One such powerful green smoothie can be made as under:
You will need the following 4 food items and most of these items are generally available in every kitchen. If not, then you can always buy from a grocery shop.
Baby Spinach- 100grams ( you can use normal spinach also)
Banana Ripe - 2
Yogurt Low Fat - 150grams
Water - 100ml
Wash clean and dry baby spinach. remove the banana peel and cut the banana into small pieces.
Toss the spinach in a blender mixer and churn. Add a little water to make a homogeneous mixture. Now add banana and yogurt and churn to mix well. This will be a thick smoothie. If you want thinner consistency add water from the balance quantity of water to get the required consistency.
If you have raised blood pressure then you lie down and relax. Measure your blood pressure and quietly relax. Ask someone to make the smoothie. When smoothie is ready drink one glass by slowly taking sips.
Measure your blood pressure 20 minutes later. You will see the reduction in both systolic and diastolic readings.