Who doesn't want to look younger? No one wants wrinkles on the skin, but as we age our skin loses its elasticity and begins to sag and wrinkled.
Can you stop aging? No, but you can certainly look younger than you are by taking proper care of your skin. It is never too late to try these simple home remedies and delay ageing of your skin. You will begin to see the results within weeks.
Table of Contents
There are two main causes for your skin to age. First is a natural growing up process in which as years pass by your life, your skin and the rest of the body ages. You just can't stop the natural clock.
The second cause is your own creation and you can do a lot to stop it. It may require many lifestyle changes including some subtle changes and other drastic changes depending on your current lifestyle.
Following are some of the main causes that deteriorate your skin and it begins to age fast.
Sleeping problems
Overexposure to the sun
Environmental pollution
Dehydration
Anxieties and stresses
Excess weight and obesity
Smoking
Poor nutrition
Skin diseases and other illnesses
Lack of proper hygiene
Overuse of chemical based products on the skin
Heredity
So you may have realised that once you change the above circumstances you immediately will begin to look and feel better.
Some of the changes will be easy to make but others will definitely require extra efforts and willpower to sustain those efforts.
So, as a first step take stock of your circumstances. Begin to fix those issues that are relevant to you, one by one with a sense of urgency commitment.
A lot of physical changes occur to our skin as we age. Some of them occur on the surface layer of the skin called epidermis and others happen below the skin.
Skin becomes slack app the loss of Elastic tissue begins in the skin
Gradual loss of elastin (elastic tissues) happens and the epidermis begins to look transparent
The area between epidermis and dermis(skin layer under the surface) flattens causing the skin to become fragile.
Skin becomes rough and can be easily bruised due to thinking of blood vessel walls.
Age spots begins to appear
Loss of fat under the skin begins to loosen the skin and it becomes evident on the cheeks, chin, nose and the area around eyes.
Bone and cartilage loss around the nose and the mouth begins to be visible on the skin
With so many changes happening to the surface of the skin and underneath the surface of the skin, anti-aging efforts have to be really sincere and produce the desired result of keeping looking younger.
This is where lifestyle changes and home remedies will play a significant role.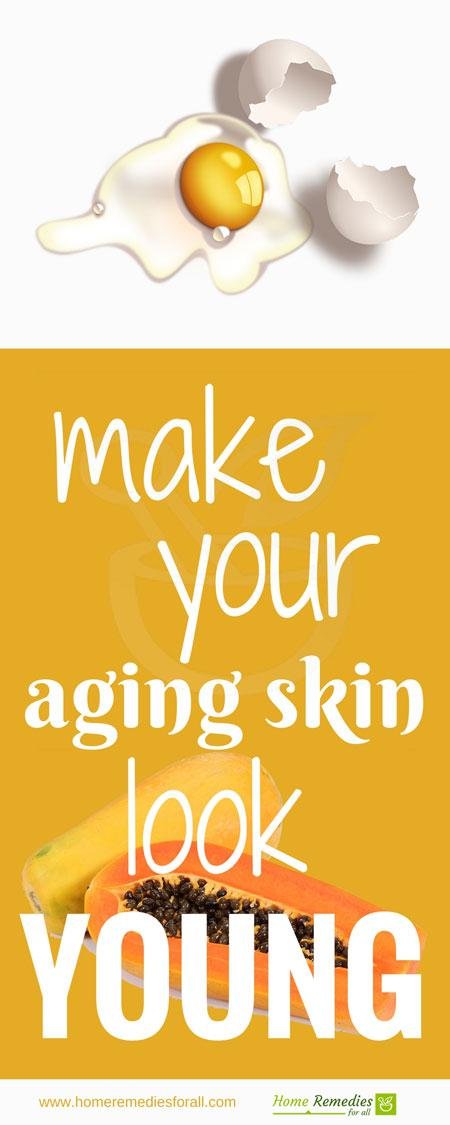 There are hundreds of natural products out there that can be used for your skin health then why should you go for harmful chemical based creams and ointments?. Here are some of the main natural anti-aging products for your skin.
Lemon juice rich in vitamin c has very good bleaching properties due to presence of citric acid. It is a natural remedy to remove dark spots, sunburns and other skin blemishes. It shrinks the open pores and removes the dead skin and other impurities from the skin pores. The appearance of wrinkles and lines are reduced making your aging skin look much firmer and young.
Wash your face with warm water
Cut a lemon and dab it on your face or alternately apply lemon juice with a cotton ball
Leave it for 30 minutes
Rinse it off with warm water
Aloe vera hydrates your dry skin. Dry skin is one of the top reasons for fast aging skin. Therefore, hydration is extremely important.
Toss two tablespoons of aloe vera gel to a mixer blender
Add 2 tablespoons of organic yogurt
Add 1 teaspoon of lemon juice
Blend everything well
Apply a thick layer on your face
Leave it for 30 minutes
Rinse it with warm water
Olive oil is a natural skin revitalizing oil. It helps in lightening the wrinkles due to presence of vitamins, minerals and natural fatty acids. It nourishes the skin and get absorbed easily in the skin making the fat tissues under the skin strong. This gives firmness to the skin. It maintains the elasticity of the skin keeping the skin firmer.;
Wash your face with water
Take a few drops of olive oil in your hand and massage your face in circular motion
Leave it overnight
Wash it off with water in the morning.
Almonds are loaded with nutrients. The richness of Vitamin E in almonds and other vitamins and oleic acid with the antioxidant capabilities help to reduce degeneration of collagen which is one of the key factors in aging skin. Consuming almonds and using topically on skin as almond oil or almond milk are all different methods to keep your skin healthy and young.
Soak 8-10 almonds overnight in full fat milk
Grind Almonds in the morning to make a thick paste
Massage with this thick paste in circular motion
Let it dry on your skin for 30 minutes
rinse it off with warm water.
Papaya with strong antioxidants is very good to revitalize aging skin.
Cut a few pieces of ripe papaya
Crush them to make thick paste
Apply a thick on your face
Leave it there for 15 minutes
Wash it off with warm water.
Avocados are loaded with skin nutrients like oleic acid which is a powerful moisturizer and antioxidants such as vitamin A, C and E. All these abilities of Avocados help in repairing the loss caused by free radicals due to aging.
You can make a great face mask by adding organic yogurt. Yogurt contains lactic acid which loosens the dead skin and other debris and impurities from the skin. Here is how to make avocado yogurt face masks to rejuvenate your aging skin.
Remove the pulp from 1/2 of avocado
Add two tablespoons of organic yogurt and mix it well in a blender
Apply a thick layer on your face
Let it dry for 30 minutes
Rinse with warm water.
Apply a toner
Egg white mask is one of the simplest methods to firm up your skin to reduce wrinkles and fine lines. Egg white is rich in proteins, vitamin riboflavin, and minerals such as potassium and magnesium. It helps to repair the damaged skin tissues. It also hydrates and moisturizes the skin.
Break an egg and discard the yolk
Apply the egg white uniformly on your face
Let it sit for 30 minutes
Rinse it off with warm water
As you have seen looking and feeling younger by taking care of your skin is a matter of commitment rather than hard work. Following tips and precautions will help you in your anti aging process.
Begin to exercise regularly so that your sleeping cycle can be made normal on a daily basis. Sleeping well is the most important aspect leading a healthy life.
Drink lots of water to stay hydrated all the time. This will significantly delay the aging process of your skin.
Quit smoking as the free radicals created by smoke harm your skin at a rapid rate.
Lose weight tomorrow only improve your skin but feel better and energetic
Do yoga and meditation to stay away from anxiety and stress
Avoid harsh sun exposure during the 11:00am- 4:00pm as the ultraviolet rays during this period cause maximum harm
If your skin get bruised or gets minor cutsminor cuts then do not ignore it. Treat it immediately. follow all the above begin to look and feel young again.